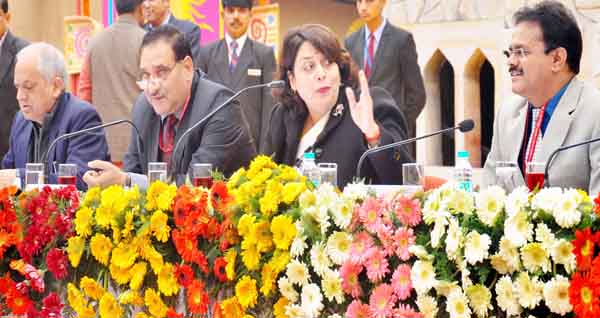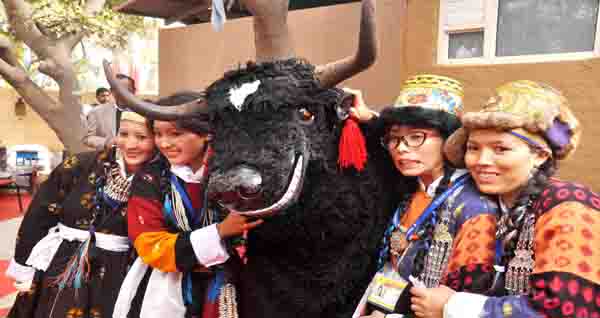 surajkund mela will show the colors of weather and art
todaybhaskar.com
faridabad | Addressing a galaxy of mediapersons at the Chaupal, Surajkund Mela Ground, Faridabad, Dr Sumita Misra, Principal Secretary, Tourism, Government of Haryana and
Vice Chairperson, Surajkund Mela Authority stated that the 30th Surajkund International Crafts Mela-2016 will be inaugurated by Shri Manohar Lal, Hon'ble Chief Minister, Haryana on 1st February, 2016 at 11.30 pm in the august presence of Shri Suresh Prabhu, Railway Minister, Government of India; Dr. Mahesh Sharma, Minister of State (Independent Charge) for Tourism & Culture, Government of India; Shri Krishan Pal, Minister of State for Social Justice & Empowerment, Government of India; Shri Azmeera Chandulal, Tourism Minister, Telangana; Shri Ram Bilas Sharma, Tourism Minister, Haryana; Smt. Seema Trikha, Chief Parliamentary Secretary, Tourism & Hospitality, Haryana; Sh. Dharmendra, Former M.P. & Honorary Ambassador, Haryana Tourism; Shri Vipul Goel, MLA, Faridabad; Shri Mool Chand Sharma, MLA, Ballabhgarh and many other dignitaries will grace the occasion.
The Surajkund Crafts Mela was hosted for the first time in 1987 to showcase richness and diversity of the handicrafts, handlooms and the cultural heritage of India. Jointly hosted by the Surajkund Mela Authority and Haryana Tourism in collaboration with the Union Ministries of Tourism, Textiles, Culture, External Affairs and Government of Haryana, this festival has come to occupy a place of pride and prominence on the international tourism calendar for its display of crafts, culture & cuisine of India in aesthetically created ambience.
Dr Misra further stated that besides attracting over a million visitors each year, the Mela has also helped in reviving the heritage crafts of India. This year, many new initiatives have been introduced like more websites offering online tickets for the Mela,
making Mela tickets available at over 30 Delhi Metro stations, special buses to Surajkund from different places, free ferry service from the surrounding areas to the fair site and more public conveniences. Dr Misra also stated that they diligently took up the matter with the Archaeological Survey of India to keep the Sunpool, an ancient monument, from which Surajkund derives its name, open for the visitors to the Mela.
A benchmark was set in the history of Surajkund Crafts Mela as it was upgraded to an international level in 2013. In 2015, 20 countries from Europe, Africa and South Asia participated in the Mela.
Dr Misra further stated that this year 23 countries will be a part of the Mela, which include two focus countries — China and Japan. There will be enthusiastic participation from Sri Lanka, Nepal, Afghanistan, Bangladesh, Democratic Republic of Congo, Egypt, Thailand, Maldives, Russia, Kyrgyzstan, Vietnam, Lebanon, Tunisia, Turkmenistan and Malaysia.
The newly-carved state Telangana is 'Theme State' of this year's Surajkund International Crafts Mela, which is showcasing its unique culture and rich heritage in an impressive manner. Shri B. Venkatesham, Secretary, Tourism, Government of Telangana stated that  about 300 artistes from Telangana will be performing different folk arts like Oggudolu, Chindu Yaksha Ganam, Gussadi, Kommu Koya, Mathuri, Chirutala Ramayanam, Kolatam, Perini Natyam, Banjara, Lambadi, Bonalu. Also Telangana has constructed a permanent commemorative structure, the Kakatiya gate at the main entrance of the Mela. Other than this, there are three gates displaying the state symbols of Telangana.
To enliven the visitors' mood, scintillating performances will be presented by international folk artistes from Japan, Congo, Egypt, Thailand, Maldives, Russia, Vietnam, Kyrgyzstan and Turkmenistan. A variety of dance forms during Day Performances will be staged by folk artistes of North Zone Cultural Centre and other Zonal Cultural Centres, like Jabro & Rouff of Jammu & Kashmir, Panthi of Chhattisgarh, Dholu Kunitha of Karnataka, Goti Pua of Odisha, Bihu of Assam, Sirmouri Nati of Himachal Pradesh, Kalbelia & Chakri of Rajasthan, Chhapeli of Uttarakhand, Chhau of Uttar Pradesh, Gidha & Bhangra of Punjab, to name a few, at the open-air theatre, 'Chaupal', within the Mela ground.
Enthralling evening cultural performances during the Mela fortnight will entertain the visitors to the hilt. Enjoy rib-tickling Hasya Kavi Sammelan by humourist Surinder Sharma and five other renowned poets, resonating qawwalis by Amar Lata & Nazim Naza, soulful performance by famous singer Kamal Khan, mesmerizing Haryana Day celebrations, pulsating performance of Punjabi singers Jassi Gill & Babbal Rai, mellifluous singing of Rinku Kalia besides adrenaline-rushing dance & song shows of Telangana, Focus Countries and international artistes. Catch all this at the Chaupal from 6.00 pm onwards.
sh Vikas Yadav, Managing Director, Haryana Tourism Corporation and Chief Administrator, Surajkund Mela Authority stated the Mela ground is spread over 40 acres of land and houses about 864 work huts for craftspersons and a multi-cuisine Food Court, which is immensely popular with visitors. This year, visitors can relish mouth-watering cuisines including authentic flavours of Telangana, Haryana and Punjab, sumptuous Mughlai, subtle aromas of the South and oriental flavours of Chinese along with Indian street food and other state specialities at the Food Court. Also, state-owned Institutes of Hotel Management of Faridabad, Kurukshetra and Panipat would dish out various ethnic delicacies.      A family each from Haryana and Telangana are going to live in specially-created 'Apna Ghar' to showcase the typical lifestyle of the area. 'Apna Ghar' of Haryana also displays most popular sports of the state such as boxing and wrestling. To promote women empowerment, the 'Beti Bachao Beti Padhao' campaign will also be showcased in the Apna Ghar with women in different roles — boxer, milkmaid & homemaker.
Surajkund Mela Authority & Haryana Tourism have commissioned consultants Subrata Debnath & Dr. Anamika Biswas of Creative Dimension, Kolkata to lend the Mela grounds a special ambience to showcase the vibrancy and charm of rural India, five seasons and expressing gratitude to Mother Nature. The five seasons have been showcased through five windows — flowers and butterflies symbolising Spring, splendid sun and sunflowers signifying Summer, cloudy sky & rain representing monsoon and similarly trees in fall colours denoting Autumn and snow clad trees & reindeers indicating Winter. Each zone also carries a colour code — Green, blue, orange, red & white in the form of designer buntings on the trees and workhuts.
Both Chaupals (amphitheatres) have been imparted a folk theatre look with pillars adorned with masks and decorative ceilings. The Food Court has been highlighted with the act of child Lord Krishna stealing butter from haandi created with 3D figures. An 8-feet clock made from cane murhas will be another added attraction. Interestingly, ethnic, traditional &sustainable material has been brought into use to design elements such as bamboo for gates & pole lights; cane & metal tokris as diyas and standing lights, fabric for buntings, kites and other props.